Baden Wurttemberg Tourism


Baden-Württemberg is a treasure-trove of activities and sight-seeing wonders. Take a look for yourself at what the region has to offer. The sites are in English as Baden-Württemberg is a tourist region frequently visited by guests from all over the globe. So, whether you want to visit an ancient castle, immerse yourself in a mineral spa or party the night away, discover the region virtually and wet your appetite.
Baden-Württemberg is one of the 16 federal-states of the Federal Republic of Germany. Home to the world famous Black Forest and the celebrated romantic city of Heidelberg, Baden-Württemberg is a top tourist destination within Germany and Central Europe. Located in southern Germany, it is part of the southern German speaking world where dialect and tradition remain strong. Thus it shares many traditions with its neighbors in Alsace in France to the west and in Switzerland and Vorarlberg (Austria) to the south. It is also much more rural and bucolic than central and northern Germany making it a popular destination for visiting natural spas with supposed curative properties or going on long hikes in its many old forests.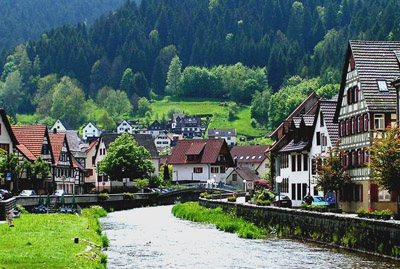 Alternative spellings of the name of this state are Baden-Wuerttemberg and Baden-Wurttemberg.
Baden-Wurttemberg's diverse rural and urban attractions include the stunningly beautiful Black Forest, Lake Constance, Stuttgart, and the university towns of Heidelberg and Tubingen. Renew your strength and energy by taking a health treatment in one of Baden Wurttemberg's many healing baths and spas. Visit the ritzy spa town of Baden Baden and use it as a base for hiking excursions to places such as the Geroldsauer waterfalls or the Yburg castle ruin in the surrounding wine country. Famous as the home of Mercedes-Benz and Porsche, Stuttgart boasts some of Germany's loveliest parks and gardens and is surrounded by densely wooded hills, orchards, vineyards and meadows. Spend some time at some of Stuttgart's splendid museums. Visit the Mercedes-Benz or Porsche motor museums and the Staatsgalerie where you will find masterpieces from the Middle Ages to the 19th century, as well as a wealth of modern art, including the important Steegman Collection which features works by Picasso, Giacometti and Paul Klee. Use Stuttgart as a base for a number of wine-tasting trips in and around the city.
No visit to Baden-Wurttemberg would be complete without a trip to The Black Forest. Hike through the Wutach Gorge, dubbed the Grand Canyon of the Black Forest, a gorgeous ravine with sheer craggy rock faces overlooking a fertile habitat with around 1,200 different types of flora, rare birds such as the grey egret, and numerous species of butterflies, beetles and lizards. Leave the beaten track and explore the gentle rolling hills of the Schwabische Alb and the medieval town of Schwabische Hall. Finish your trip to this magical region with a trip to the university town of Heidelberg with its picturesque historical alleys and fairy-tale castle overlooking the town. Enjoy the town's lively atmosphere and its friendly bars and pubs.